A waste transfer note is required every time you plan to move any waste product. The note itself is a fundamental part of fulfilling your Waste Duty of Care; this document forms the proof that you have taken all the correct precautions in order to deal with your waste legally and in an environmentally friendly way if possible.
When you fill out a standard waste transfer note, you need to know:
What the waste is including the LoW Code and description

The quantity of the waste

Who produced the waste

Who the waste carrier is

Where the waste is going

Which environmental permit is required

Which waste management licence is required

Which permit your registered waste carrier requires
At WasteSURE, we always ensure that your waste transfer note is completed before any waste is moved. In fact, when you use our Portal, all the information is already there and we can automatically generate the waste transfer note for you.
So, with a WasteSURE digital waste transfer note, all you need to do is tell us where you are, who produced the waste and what the waste looks like and we can do the rest. And you can do all that when you book your skip with WasteSURE. 
Our Waste Transfer Note Looks Like This: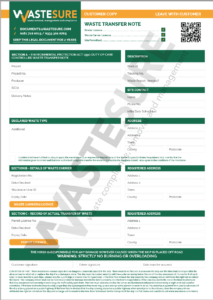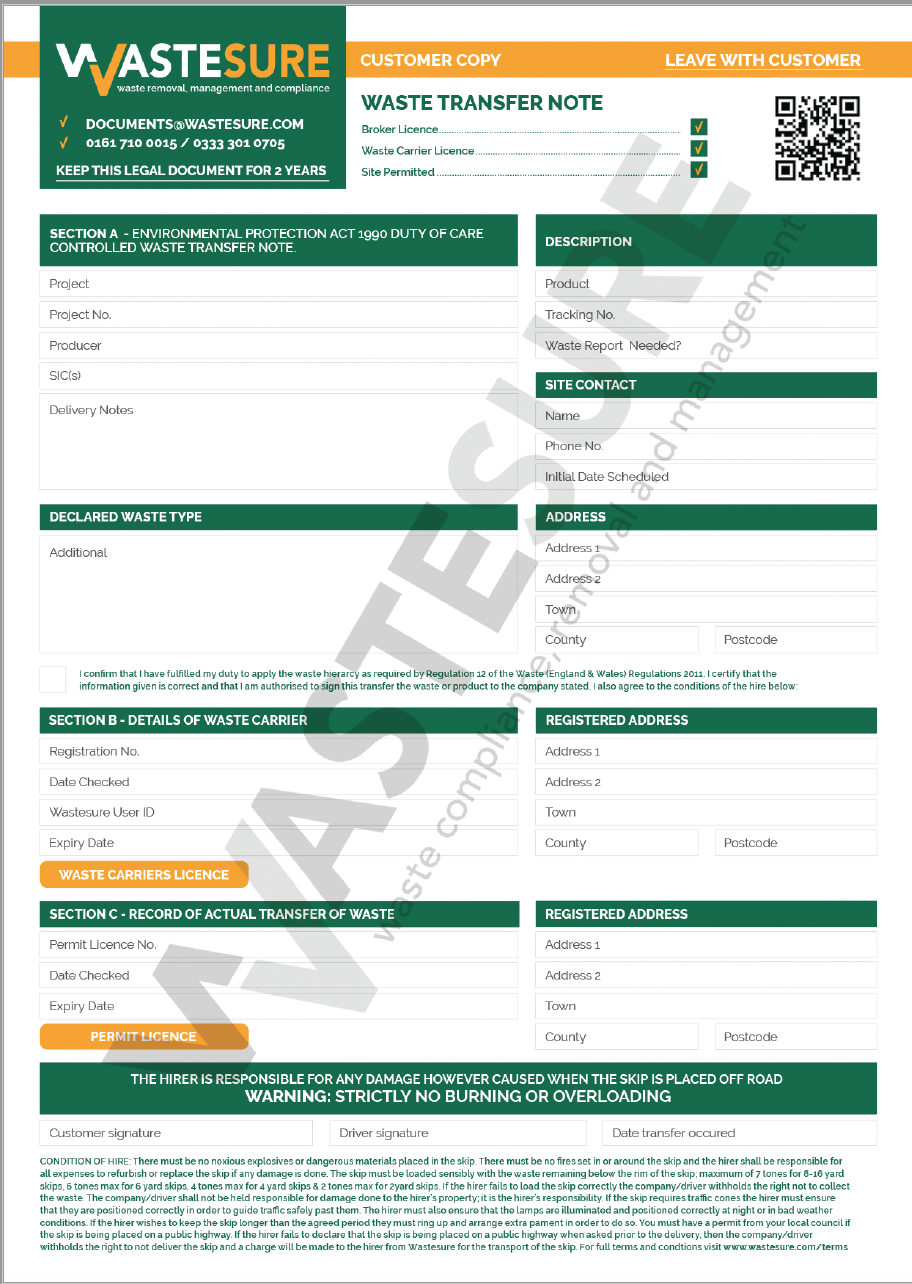 Our waste transfer note contains all the information required by the Waste Duty of Care. This includes the type of waste, where the waste has come from, where the waste is going and all the legal documents to prove that everyone in the waste chain is fully compliant.
But WasteSURE is taking this process a step further.
Digital Waste Transfer Note
Unlike other notes, the WasteSURE digital note isn't just a paper copy that has to be passed from person to person. Our  note comes with a QR code which can be scanned on a tablet. This means that you don't have to chase every single person in the waste chain for a signature yourself, instead you can take a digital signature.
The main benefits of the digital waste transfer are obvious. You will save time and energy ensuring that the transfer note gets to every party and you don't need to worry if the paper copy gets accidentally lost in transit. The other benefit is that you will always have an accessible digital copy so no matter what state your filing cabinets are in, you can find your waste transfer note on our Portal.  
The digital format also means that potential for human error is significantly reduced. Our team would have to work quite hard to get a waste transfer note wrong. They are only able to select compliant companies according to waste type, so the worst they could do is spell your name incorrectly!
Fully Compliant Before the Waste is Removed
But the real benefit of the digital waste transfer note is that you don't need to wait around for it. In many cases, waste transfer notes are not made available until 30 days after the waste has been removed and processed. This is usually because the waste manager has to chase each contractor up to ensure that what they said would happen actually did.
At WasteSURE, we go about things in entirely the opposite way.
When we take a booking from our customers, no matter whether that booking is for a domestic skip or a large corporate site, we will ask for some basic information, including what the waste is, where it has come from and who has produced it. This information forms the basis for the waste transfer note.
From here, our team will allocate one (or more) of our trusted providers to deal with the waste. All our providers are verified and checked on a regular basis so we cannot select a provider who does not have the relevant licence. With this system, compliance isn't just an afterthought, it is fundamental to producing the waste transfer note itself.
There will never be a 30 day wait with WasteSURE.
Interactive Links to Documentation
Transparency is absolutely vital in the waste management industry and we take it really seriously. On every waste transfer document, we will link to the relevant legal documents supporting our client's proof of compliance. Of course, this also means that our clients can double check each provider themselves for peace of mind.
The other big benefit of using an interactive link is that you don't need to worry about sorting through lots of pieces of paper. This paperless system requires no organizing at your end; as soon as you have found the waste transfer note, you know that you have everything you could possibly need.
Go Digital With WasteSURE
At WasteSURE, we are dedicated to making waste management easier, faster and fully compliant in every single case. We don't cut corners, we simply follow the waste duty of care as it was intended, making greener choices and using innovative strategies.