Targets are in place to use recycled aggregate on construction projects connected with High-Speed Two (HS2), the new high-speed railway for Britain. Whilst this is great for the scheme's sustainability credentials, a potentially negative impact is that the cost of recycled aggregate for alternative projects in those areas is ramping up due to reduced availability.
A potential solution could be to focus on increasing the supply of recycled aggregate in those areas. This solution is something major contractors can control themselves – and presents a commercial opportunity for all, not just contractors that have projects along the HS2 corridor.
The HS2 Sustainability Approach includes a commitment to manage environmental impact by sourcing and efficiently using sustainable materials, reducing waste and maximising the proportion of material diverted from landfill. No surprise then that in areas close to HS2 projects, the price of recycled aggregate is higher due to supply and demand forces at play. 
Maximising the use of recycled aggregates to reduce demand on the limited supply of freshly quarried is undoubtedly supported by WasteSURE. Therefore, we want sustainable resourcing options to be increasingly available to a more significant number of contractors – not just those in a position to pay higher prices or simply those that got in there first.
Thus, supply needs to go up, so recycling levels go up to achieve this.
Contractors can indeed take control of this themselves. Our WasteSURE media cleaning system provides the ideal solution for recycling aggregate on site. It gives construction companies the option of recycling their soils and stone and reusing on-site or alternative projects – or selling on their recycled aggregate to the market.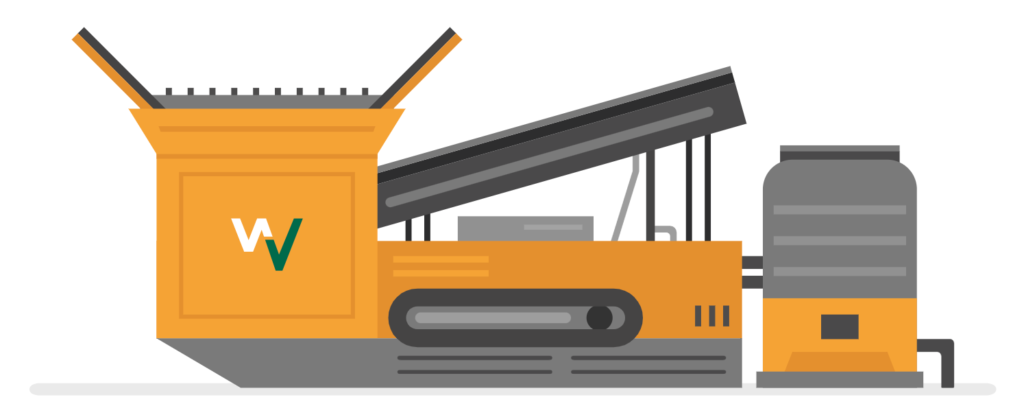 The environmental benefits are clear; less use of natural resources, less transportation and reduced waste. The commercial benefits are equally clear – by recycling unusable aggregates, waste is practically turned into gold.
This opportunity exists not only for construction companies along the HS2 corridor but also for those close to other national infrastructure projects. 
It is an opportunity that is likely to continue well into the future beyond the first fleet of high-speed trains taking to the rails. Projections by the UK Mineral Products Association suggest that by 2030, 267Mt of aggregate may be needed each year to satisfy construction needs. Currently, the aggregate share from recycled and secondary sources varies between 28% and 37% of overall demand. As innovative solutions are developed, there is no reason why, as a sector, we cannot gather more speed in increasing this figure to move in the direction of a more closed-loop system. 
In addition to companies like WasteSURE investing in research and product development, collaboration and a new way of thinking are essential to make this happen. For example, we are currently working with framework contractors to develop the visibility of future aggregate requirements, both for existing and future projects. Additionally, we are supporting value creation by enabling the utilisation of all materials set to leave the site. We have the projects, we have the volume of waste – and now, we also have knowledge, equipment and protocols to be on track to create a world-leading circular economy. 
Find out more about WasteSURE's media cleaning system. Initially designed for the refurbishment of water filtration systems, the media cleaning system has been perfect for recycling general construction aggregate waste.
References:
https://assets.publishing.service.gov.uk/government/uploads/system/uploads/attachment_data/file/621219/hs2_sustainability_approach.pdf
https://www.agg-net.com/files/aggnet/attachments/news/mpa_long-term_aggreates_demand_supply_scenarios.pdf